Tuesday, July 28th, 2009
By Brian Knoll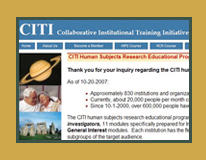 The Kinection team completed Collaborative Institutional Training Initiative (CITI) certification training this month. CITI provides education that ensures that researchers know how to treat research subjects ethically.
CITI training covers protection of human research subjects, good clinical practice, health information privacy and security, and responsible conduct for researchers.
Our certification is part of our commitment to the ethical research that guides the design of our tools.