Thursday, September 24th, 2009
By Ed Lavieri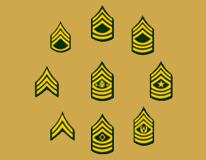 The Army's Professional Military Education (PME) training pipelines offer us a way to reach the entire service with training in cross-cultural communication, regional expertise, and language.
To find out more about how to reach enlisted soldiers through the PME system, we talked with the Commandants and Command Sergeants Major of several NCO academies. This gave us useful insights into the training and curriculum development processes.
We also talked with the Dean of Academics at the U.S. Army Sergeants Major Academy (USASMA), which is responsible for the common core of the enlisted PME curriculum. This discussion helped us understand the enlisted training system as well as policies and procedures that affect training.
We're optimistic about working with the USASMA in the future.