Sunday, January 17th, 2010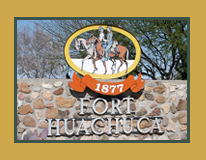 On Jan. 8, 2010, Small Group Leaders at the Fort Huachuca NCO Academy incorporated an activity designed by Kinection in their Senior Leader Course to highly positive feedback.
The activity, designed to help students learn to and recognize the value in perspective-taking and rapport-building, was a "choose your own adventure" scenario with multiple paths to outcomes. The story was closely based on a real-life critical incident in Afghanistan.  The activity was designed to take about an hour, half spent running the scenario and half spent  debriefing the experience.  Because of how well the material fit with their Lesson Plan, the facilitators decided to use the scenario and debrief as a summative activity, tying together content that had been presented throughout the day.

Cathy Moore and Brian Knoll, members of Kinection's team, were invited to attend the Cultural Course component of the NCO Senior Leader Course and to watch the activity as it was run.  This opportunity, which is often not presented to instructional designers, was extremely helpful, providing first-hand experiences of the activity logistics.
The reception was phenomenal.  After the "test run," our NCO contact asked if he could immediately include the activity into their Lesson Plan. During our debrief with the instructors, we learned that the Faciliator's Guide we created for them was "heads and tails over what others have provided" and that the interactive and group-based nature of the activity met and exceeded their expectations.
Our other key audience, the students, also  enjoyed the session and felt it instructional.  Based on the review of 73 written evaluations, students said that the exercise would be helpful in future cross-cultural negotiations.
Thank you, Fort Huachuca, for inviting us to visit and watch your skilled Small Group Leaders deliver the material we developed.  It was a memorable and enjoyable experience!  We look forward to continued work with the Fort Huachuca NCO Academy and have been invited back to continue enhancing the cultural material for their next round of classes, which starts in March 2010.