Tuesday, May 19th, 2009
By Ed Lavieri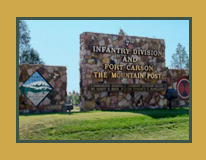 Most of our team recently visited soldiers at Fort Carson. One of their big takeaways was the Army's heavy reliance on on-the-job training (OJT).
Formalized schoolhouse training establishes a foundation that local OJT builds upon. Having served 25 years of active duty in the Navy, I'm a firm believer in the power of OJT and was encouraged to hear that our entire team has embraced its importance.
On-the-job training can be tailored at the unit level and lets commanders control qualifications to create highly capable military units. The adage "We train the way we fight" illustrates how relevant training has to be.
The OJT process strengthens all our military branches. Junior personnel are trained by their supervisors to perform their duties and carry out the responsibilities assigned to them.
NCOs conduct this training for their personnel's current roles as well as their future roles, since one day these junior personnel will become NCOs.